A week has passed and I'm still in my euphoria, but, I promise you this is going to be the last time I mention about my 1st blog anniversary. ;)
So, as I mentioned before, I held two-day celebrations for my blog's 1st anniversary; first, an indoor-picnic tea party on May 1st and second, a fashion bazaar on May 2nd.
*****

The party brings me back to my 4th birthday party where friends gather in their lovely frocks, and colorful treats are all around. I was so happy happy happy! :D



The party theme is "Indoor Picnic" and as I promised, we're having a picnic under the tree, with all the colorful kite-like flags, and we sat upon the bluest shade of the sky and greenest shade of grass. The meals lay upon a real wood, and there is a room-cave made of delicate pastel-colored chiffon, flowers, and even cooling breeze. There are stacks of story books, fashion coffee-table books, and magazines all around the place.


(Me and Amel in her frocks.. it's a very rare opportunity to see her wearing dress, I'm flattered by her effort of putting on girly dress for my party..)

*****

(Amel is preparing the flowers that are as yellow as my sunshine caramel flan)

*****


My best friend, Amel, helped me preparing the snacks and she made stacks of mouth-watering noodle pizza. It's a ladies-only party, so, as soon as the guesses gathered, Dito left the party and all the girls start taking pictures by themselves. It was superfun and well, chirpy..Girls can be so much like colorful birds that make all those cute sounds sometimes.. Ha! How weird did I sound?



Right after I blew the candle, a sweet friend, Tria, surprisingly played her harmonica and read me poem as a gift. It was so touching I can't help but crying. The party went on and on until the last guess came and some of us spend the night at my house, preparing for tomorrow's fashion bazaar. Ah, now, let the pictures and videos tell more about the party:
(The cave of pastely chiffon)

*****


(Vita showing the LBoPg 3)

*****


(Reading fairytales)

*****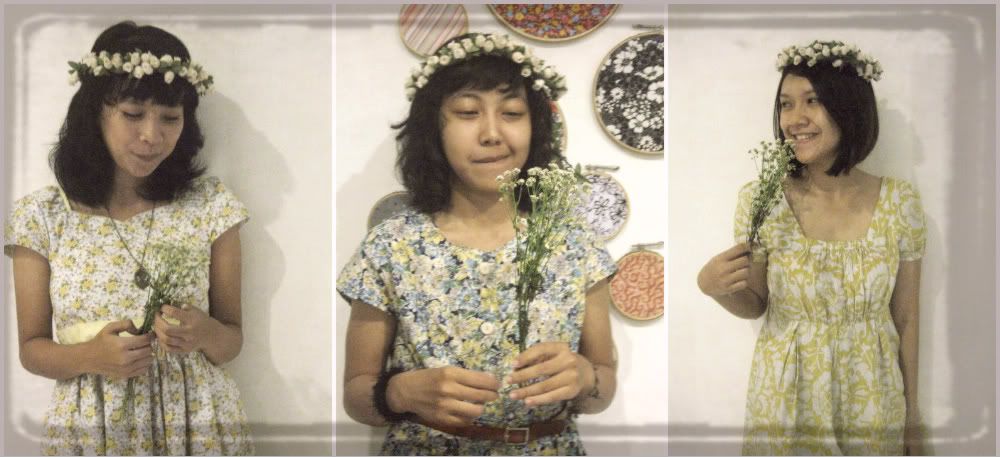 (The flower girls, my flower crown seem to have its fans)

*****


(with the floral fairies and Sondy)

*****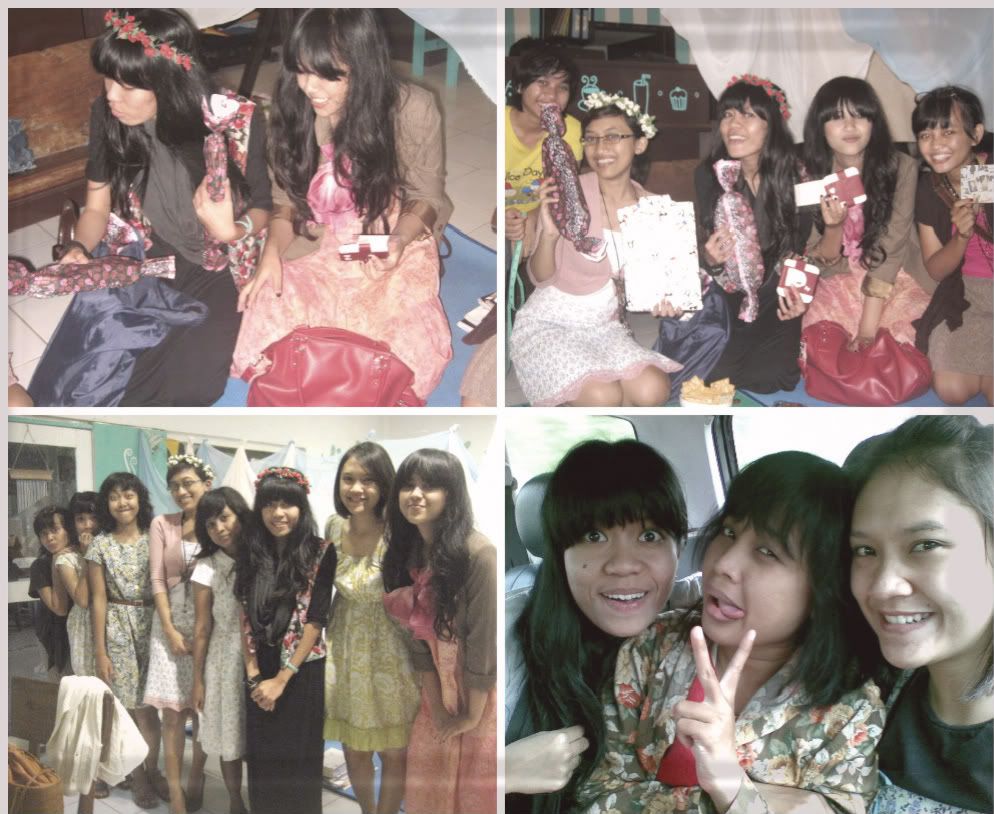 (the gift-swap with the other bloggers, Thika and Lauretha)


Look to this Day by Kalidasa
Look to this day, for its life
The very life of life
In its brief course
Lie all the verities and realities
Of your existence
This bliss of growth
The glory of action,
the splendor of achievement.
Are but experiences of me
For yesterday is but a dream,
And tomorrow is only a vision,
And today well lived,
makes yesterday a dream of happiness
And every tomorrow a vision of hope
Look well therefore to this day
Such is the salutation to the ever new dawn.
*****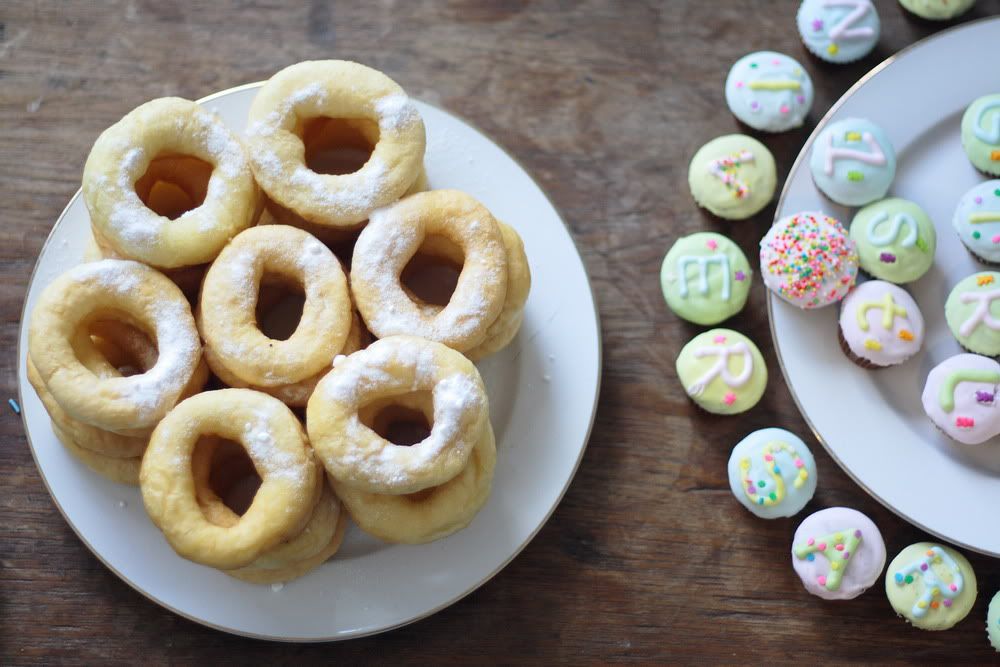 For the beautiful day at the party, I'd like to thank everyone who helped a lot, I'd be nothing without you. First and foremost, for my loyal friends: Bentar and Dini who helped making the impossible project of LboPG 3 come true, my little sister Nana and her troop: Kiting, Emon, and Fay for helping the party preparation. Dito Yuwono, for the beautiful..really beautiful pictures. Amel, my best friend, for the delicious pizza and photos, and hugs, and supports. Mas Kasno and Mas Cokro. And last but not least, all the pretty guesses: Tria, Vita, Sondy, Kinan, Dee, Intan, Diela, Thika, and Lauretha. Thank you, thank you, thank you for making my day! :D

*smoochies*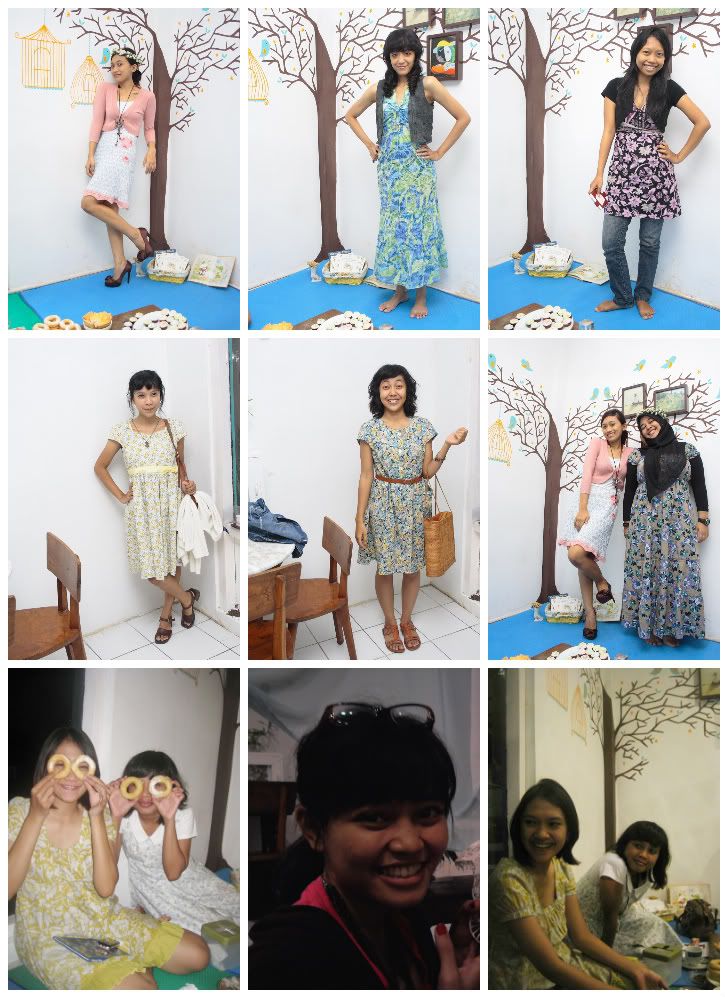 (some of the ladies)



*****
After the party, some girls were staying over at my house, an hour away from Cups where the bazaar was planned. We planned to start the bazaar at 8am, and..surprise..surpriseeee.. we woke up late! Some customers were already come and we haven't even build the tent. How irresponsible of us, yet, it was exciting! All the rush and the effort of making the bazaar look nice in such tight deadline. It was thrilling.
The bazaar was full of flowery dresses from Obi-Obi and Summer Spring, accessories from Sondy Garcia, prettily quaint vintage dresses from KotakPandora, and some of mine. Its nice how Kotak Pandora (

translation: Pandora Box

) always put the item bought in a colorful box completed with sweet poetry.. Oya, anyone who bought my cloth would also get free cupcakes or caramel flan. ;)
In the middle (

and most crowded

) time of the bazaar, a heavy rain poured down and we were panic (

but gracefully

) move the stands from the outside of my Cups to the inside. It was, once again, thrilling.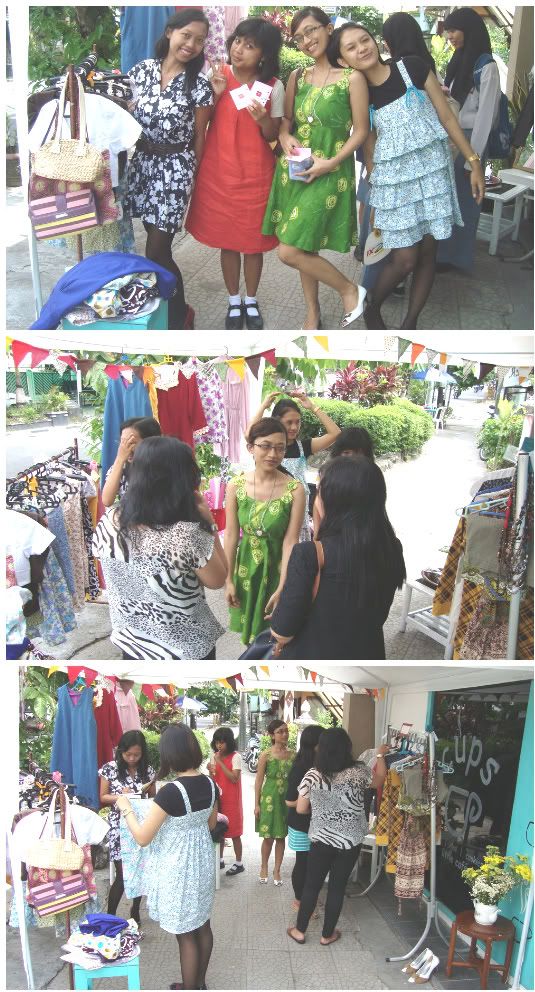 The day was fun, thanks to Dee and Kiki from Obi-Obi; Vita and Tria from Kotak Pandora; Sondy for making those sweet necklaces and bracelets; and all pretty customers who come over and join my celebration, the girls troop from several high schools, Mayang, Osa and Dini, Cups Hams Club, mbak Lusy from Garasi and friends, new friends, neighbors, other bloggers such as Tika, Fian, and so on. Let's make another Bazaar sometimes, shall we? ;)
*****

Miy
(party)
Skirt / Popperca
White Top / my sister's
Pink Bolero / Orchid Boutique
Flower Crown / I made it myself
Butterfly Necklace / House of Beads by Sondy Garcia

(bazaar)
Green Dress / Summer Spring
White Shoes / from my mom
Necklace / Cheaper-Cheaper

Pre-party day photos taken by Dito Yuwono
Party photos were taken by Amel, Sondy, Vita, Diela
Video by Sondy Garcia