What would it looks like when the sweet icing of pastely cupcakes transformed into a green apron with white embroidery? What would you do when that green cupcakes-icing apron find its soulmate that comes in a sweet pink dress? And they both are vintage, and they both are happily married to each other? Oh..and they soon have a cute little chocolate wedge child, and they live happily ever after..
Now when I live with this happy family, I feel like throwing a tea party on a floral glasses and serving fruity-scented tea all the time. Me, the chocolate wedge baby, the vintage green apron, and the pretty pink dress are one happy family! :D
Thanks to Irene and Kendra of Fingerstaches for this beautiful vintage apron; and thanks to sweet Aya of Strawberry Koi for this giveaway~ which is, in fact, my 1st giveaway ever! :D I'm so excited. Thank you so much.
Do visit Fingerstaches' store here and indulge yourself with those pretty dreamy vintage findings. I personally love the yellow sunshine dress. It puts a smile in my heart even just to look at. Do pick your own favorite and share it with me, Loveliest..
*****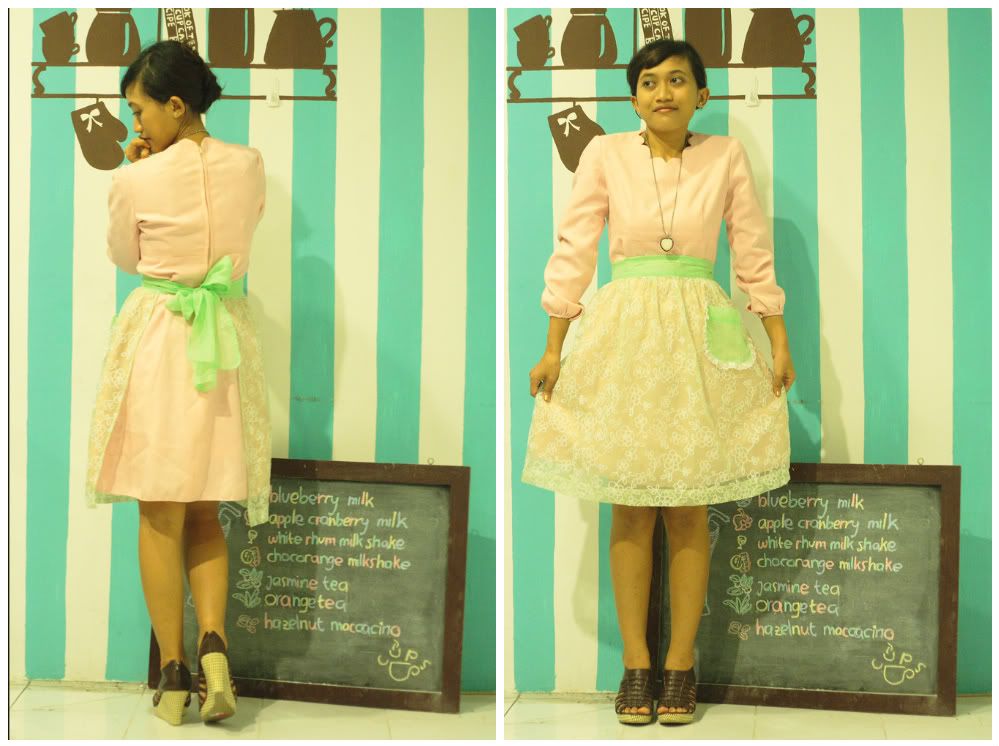 *****
Miy
Pink Vintage Dress / Kotak Pandora
Green Vintage Apron / Fingerstaches
Chocolate Wedge Shoes / Friday to Sunday
Photographed by Dito Yuwono