A woman must have money and a room of her own if she is to write fiction
(Virginia Woolf)

(My floral animal troop)


I didn't realize when I started falling down that rabbit hole. Maybe I was floating. Maybe I was asleep. There was no bump, I just somehow realize I already down under. Is it the Underland?

Then I wake up.

There goes the white rabbit, hanging happily on my front door. And I remember the world I was in. There were animals in floral prints, books of wonder in thousands chapters that can take me to one adventure to another, the pink puffy cloud I used to sleep on, a bizarre music concerto, magical pan flute, and my trio dear friends.

Then I go out of the room.

God, I'm still in Underland! But beware! Out there, danger spies with his red eyes. There are only several places where I can be safe. Outside, the white rabbit is my guardian. But in the room, anytime danger sneaks in, I have my floral animals' troop to stand by me, and my trio puffy friends to protect me. This room is the safest place.

Now, that's comforting.


(At the door, there is the girl and her flower, my Pikopink, a wind chime that moves by the AC instead of real wind, and my favorite picture of a warm house on the countryside. The sun falls at the precise location creates a shade on the garden. A dream house)
*****
(The white rabbit called Pikopink- my guardian. The girl in this goodie bag gives me a clear garden caricature. She and her flower have certain movement that makes me buy it at the first place. It is handmade, sold in a magical place called Temple Tree where we could find treasures anywhere in the store)

This is my 3rd room of the Home series. After moving from my transitional place on top of the city, I finally have a room of my own. Desperate of going back to the nature, I create a caricature of the garden and a bit of Wonderland here. In the end, every girl needs a room of her own for a daily intake of me-time to feel renewed and refresh. A place where a girl can find solitude, refinement, and tranquility to restore her soul each day. A place of freedom where she can stop, think, relax, and be really honest and creative.

I choose pink to lift up the already present green and white color of my room. Pink and green brings the energy of fire and wood. The vibe of pink is soothing, loving, comforting, while green is calming, relaxing, and tells us that we are safe. White creates an airy and serene feeling. When used in furniture, it will soften the look of the room; at the same time makes the room feels warmer and more inviting. Those feelings are essential for a bedroom. For any of you who's looking for a girls-only dormitory in Jakarta, I highly recommend this place.

Fun fact about pink: when used too much in an indoor environment, pink can create a floating effect, and its inhabitants may tend to live in an illusory world. ah...yes, give me more pink!

(My pink puffy cloud ship where I do most of my activity and my trio happy puffy friends- Deruk, Sleepy, and Sleepy II)

*****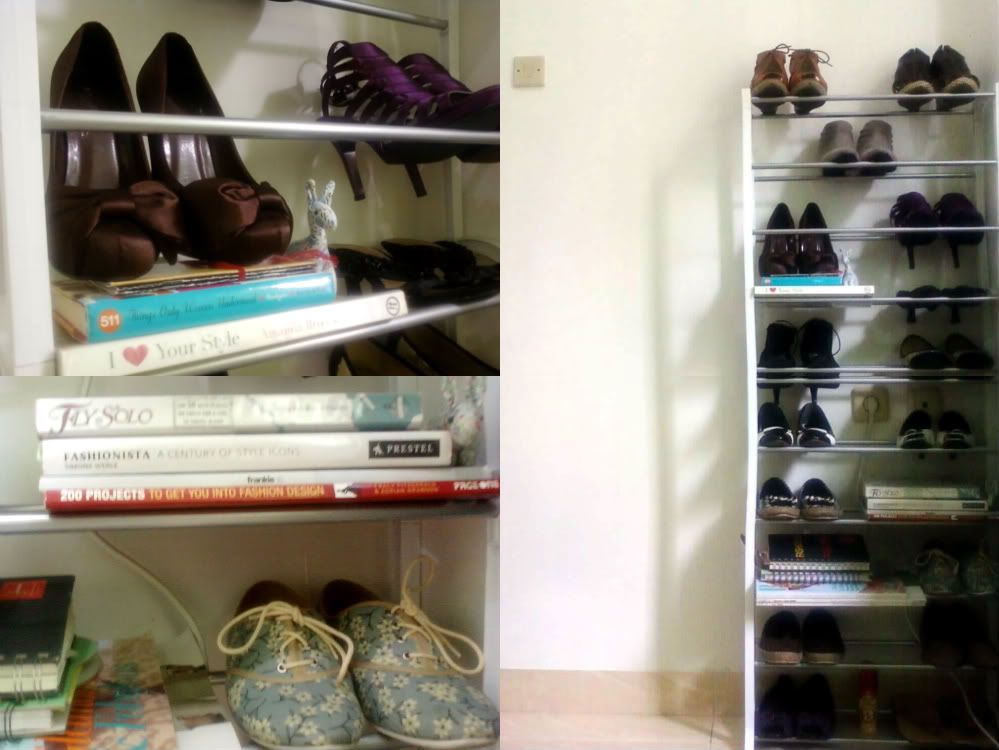 (My shoe rack serves well as a book rack too. I put some of my fashion reference books there. My floral animal loves to play hide and seek there)
*****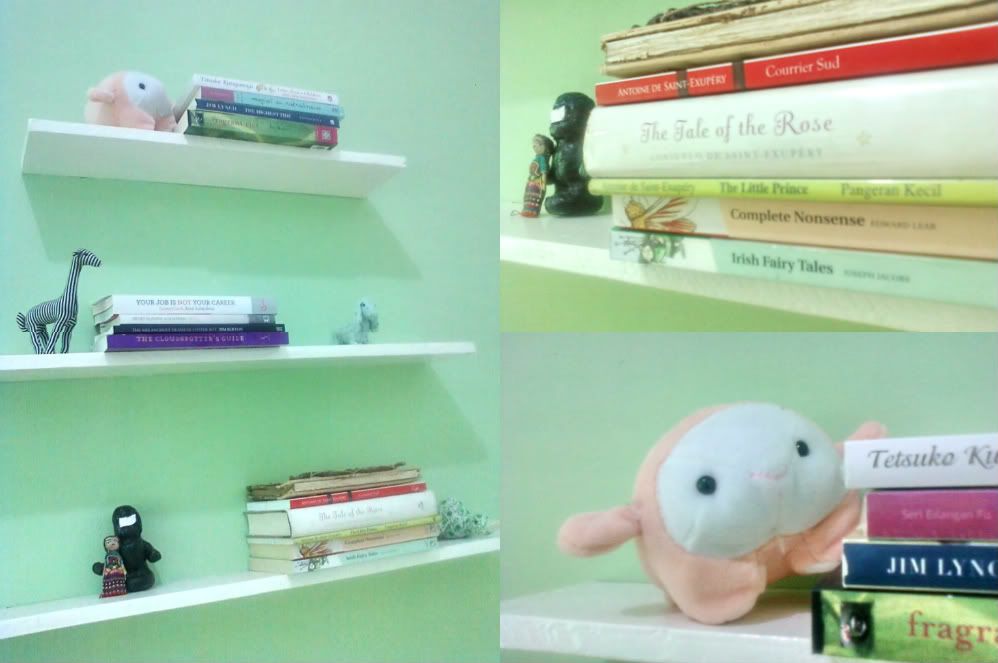 (clockwise: the book of wonders, take me to an adventure far outside my room; books that gives me romance side by side with the statue my beloved made for me; the pink doll reminds me of my beloved youngest sister, no matter how straight I left her standing, I'll find her trying to climb the book pile every now and then)
*****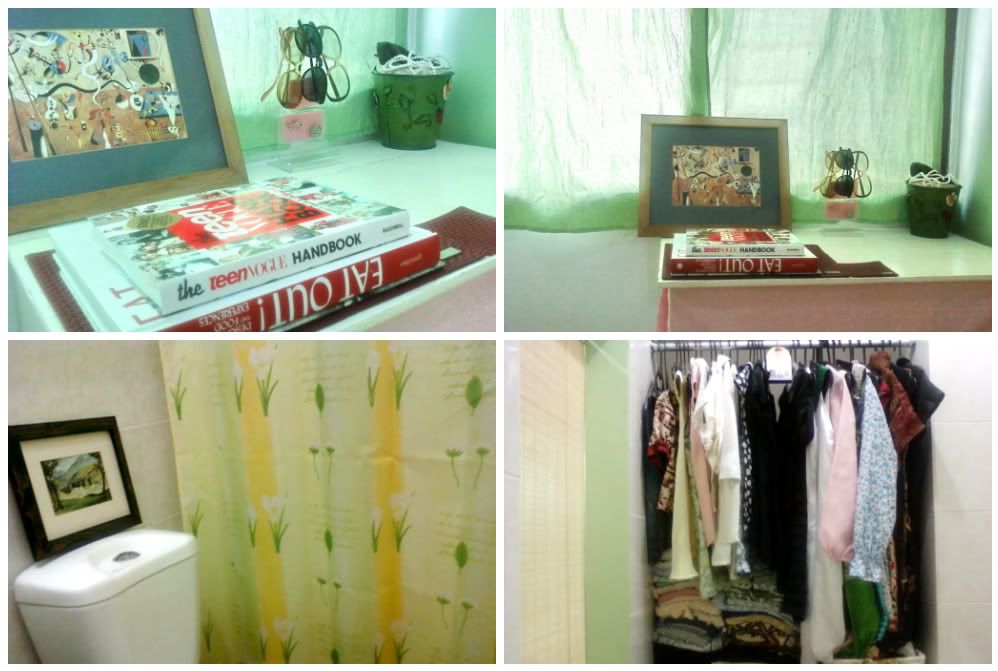 (Clockwise: the table is magical! Inside, it's the storage of my tea party kit. Outside, there is the picture of the bizarre music concert, some books of my dream, and a gardening bucket containing my accessories collection; the screen door will lead to the walk-in closet and the bathroom; a part of my way-too-small walk-in closet; the bathroom area)

*****

Photographed poorly by Miy using cell phone camera (did I mention that I promise myself to buy myself a decent camera yet? I did? Yeah.. long time ago)