Where birds don't fly, that's where I'm going to be and if you see I'm back the very next day, that is not me. Where I'm going, there are no streets but I'll be walking the streets of my hometown
(Club 8- Where Birds Don't Fly)
*****


As I promised before, I'm home bringing a lot of stories and photos. Unfortunately, a little accident happened and all I have left are 15 photos out of 80. The rest remain a history. We've tried a lot of recovery programs but nothing works yet, sadly. Only the photos of my favorite contemplating spot of the master bedroom and the walk-in closet survived. The photo of the trip, the house, the pretty little spots~ all, as good as gone!
Puff..


So, once again, the only reason I love this trip was the presence of my beloved. I never really like the city, but my beloved is a real city boy and he loooove being there. We stayed at my uncle's penthouse, the only place I can call home there. My uncle is leaving the country for a few months now, preparing to move to his dream country. So, the apartment is completely ours!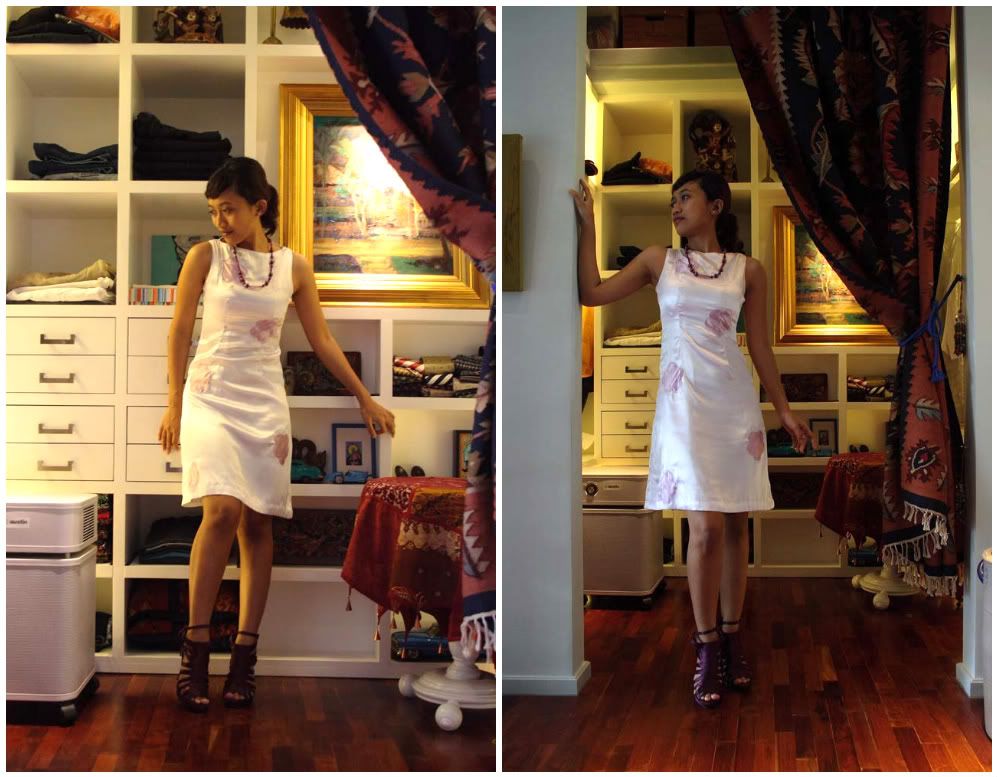 *****


Day 1

As soon as we arrived, we're heading to our favorite location: Kemang. I set my eyes on the

Fish and Chips store

that is said to be the best one in the city and Dito is heading straight to

Aksara after lunch. Unluckily, we couldn't find the fish and chip shop, grabbed burger and macaroons instead at La Codefin. After an hour or so at Aksara, we went to Tika

's resto:

Kedai

, and I love it a lot! I mean, it's all retro and stuff, but the vibe is totally friendly. Since I was still suffering from an asthma attack, we soon heading back home, took a nice bath, and enjoy casual dinner in the mall nearby. Later that night, friends stop by at our place and end the night nicely.




Day 2

I got a new haircut and face acupressure for the sake of the interview I'll be having the next day. We also spend the day shopping for storybooks at Kinokuniya and having sushi feast at

Sushi Tei with some friends. Definitely the best sushi ever!

Day 3

Day 3 is the interview day. It went well, but right after the interview, I got terrified once again. It's a big step I'm taking, not just a baby step. I'm having the interview to move to the city I don't even like yet, leaving all the things I've started behind. So, in the midst of the fancy crowd in Grand Indonesia, I keep crying on his shoulder~ completely terrified. Even the fact that I finally found the fish and chips store
(in front of Wimo Kemang)
, and the nice martini sip at
Birdcage
didn't heal. Later that night, Dito and I had this long conversation over delicious night tea and all is fine again. One of the best parts of the trip is that we had tea for two, twice a day with nice city view and warm conversation.
Day 4

At the last day, I keep my immature stupid praying that they wouldn't call me back again~ seizing me from my wonderland, take me away to the real world. But, a girl must grow up. That is the fact us girls realized years ago. Big girl just won't cry over such a life improvement, right? So, we're happily fly back home after a memorable lunch at the prettily quaint
Nanny's Pavillion
at the front mall. Who would guess that the call later that evening would change all the happy vibe I'm having?


*****

*****


So, later that evening, I got called again that force me to fly back-and-forth two days in a row. It was crazy. At day 5, I went back to Jakarta, all by myself after a non-stop cry from the previous day. At day 6, I took a 22 hours road trip home from Jakarta to Jogja
(which was a total relief, and the view was magnificent, and the feeling of heading home is irreplaceable)
.
Since then, I enjoy each day home as if it was the last. The breeze, the togetherness, the blue sky, the green grass, the friendly smiles, the priceless happiness, and all. Until today, I am still not so sure whether I should go back there and grow up responsibly or keep doing whatever I've started here. And no matter which one would go my way, I'll face it head up and happily.
Would I still be chasing for the blue bird that gives me simple little happiness, or will I finally be the black bird that flies high?
I don't know yet. I'm still at the place where birds don't fly now.
*****

******
Miy
Little White Dress / a.k.k.u
Purple Necklace / Thrifted
Purple Shoes / Chrysalis

Photographed by Dito Yuwono