Have you ever feel fashionably inspired by certain kind of music? Feeling fabulous just to listen to a certain piece, or feeling lifted-up by the stylish vibe in that tunes? It's easier to see how today's pop musicians become even more attached to fashion, lets say Katy Perry with her wonderland-inspired fashion style; Lily Allen who become the representative of the Coco Cocoon of Karl Lagerfeld's Chanel; or Lenka who set the girly sassy girl inside us free.
For me, music is one of the most influential thing in term of style~
inside and outside. The harmony of some music (the voice, the melody, the
ambiance) could represent certain attitude that screams style in the most
subtle way. It's easy to say that my music muses are girls with eclectic mix of femininity and feminism. I fell in love with their musical ambiance, which is very dainty.

It's a treat that in the more vivid way, their styles are also inspiring; check out this list below..
When I first stumble upon Astrud Gilberto, I could only found The Girl
from Ipanema song. It was completely difficult for me to find her song back
then when everyone my age are still listening to emo and pop songs. Later I found Fly Me to the Moon and I fell completely in love with her. The song has this delicate and smooth ambiance. Her voice reminds me of love, hot tub, a hug, and the twilight with glorious sunset and comfortable breeze.



When I finally able to collect all of her songs, her style has already affect me strongly. I start to look for any other female singer who has her type of voice but none gets her continuous delicateness. In term of fashion style, her music affected me in a way that I start to pick delicate outfits and combining white, gold, and pink- twilight blue and sunset gold- and also lots of pastels; those are the colors that reminds me of her music.
Five years ago, I bought one of the most precious album I ever had: The Jazz Diva Collection. All of the jazz diva from the old-time were nicely compiled and I was introduced to the Queen of the Divas: Nina Simone. Her song there: Love Me or Leave Me, were witty, strong, a bit cynical, smart, and stay beautiful as she is. The piano playing were AH-mazing!!
Long before Regina Spector fever, this lady gets me down on my knees with her piano. If Astrud inspire me to be delicate and loving, Nina Simone inspired me to be strong and idealistic.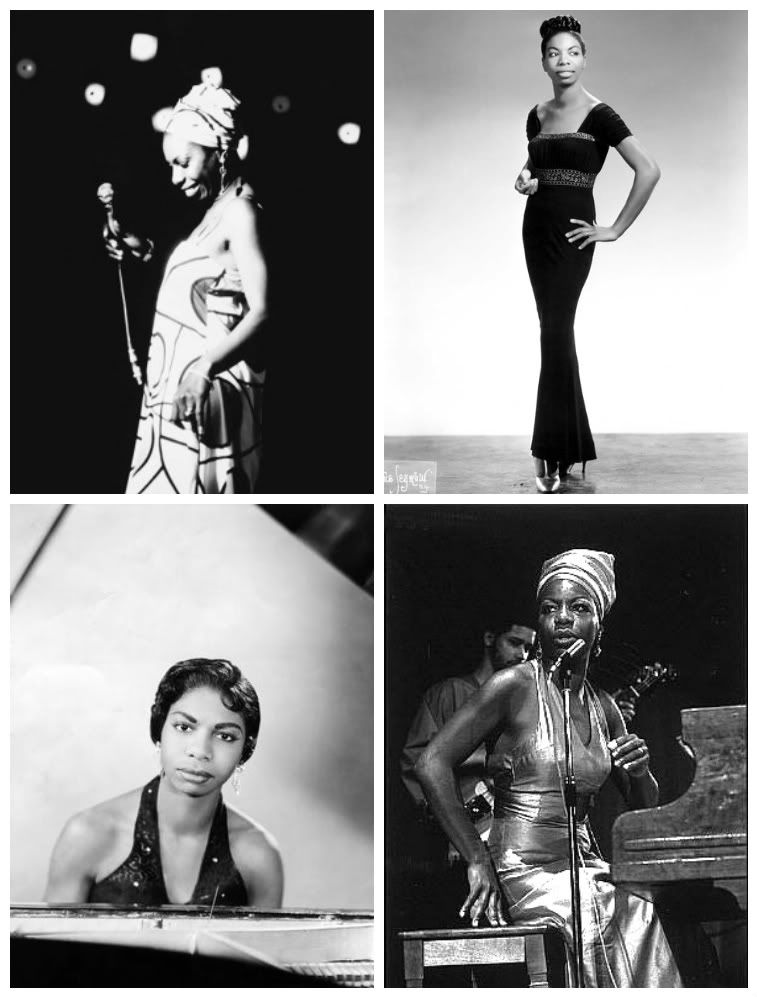 Even more than that, her music has actually craved the history. To name a few, according to her biography "I Put a Spell on You", the song "To be Young, Gifted, and Black" has been a must-play in the demonstration and human right movement back then. In term of fashion style, she really is a queen through and through. Elegant, graceful, and could be a little bit over the top sometime.


In 2004, I start my university years having one of the weirdest fashion moment in my life. My friends are fashionably polished and I were in a post-highschool-punkrock phase: wearing too many black and studs (and no-not in Kate Lanphear's cool way, of course), listening to NOFX, MXPX, Not Available, The Strokes, The Used, and my favorite bands were No Use for a Name and Wheatus.
My style was *

cough

* suicidal..until, a lady pick me up from that deep black hole: a heroine called Feist. I was looking for Astrud Gilberto album when I stumble upon her red album titled Let It Die (2004) with a notable sticker on it: "a mix of PJ Harvey and Astrud Gilberto". I grab it right away, fell in love right that second, and musing her from that on. She is a 'real girl' without being too dainty, a perfect mix of Astrud's womanly style and Nina Simone's strength. A style that I later describe as femininely feminist.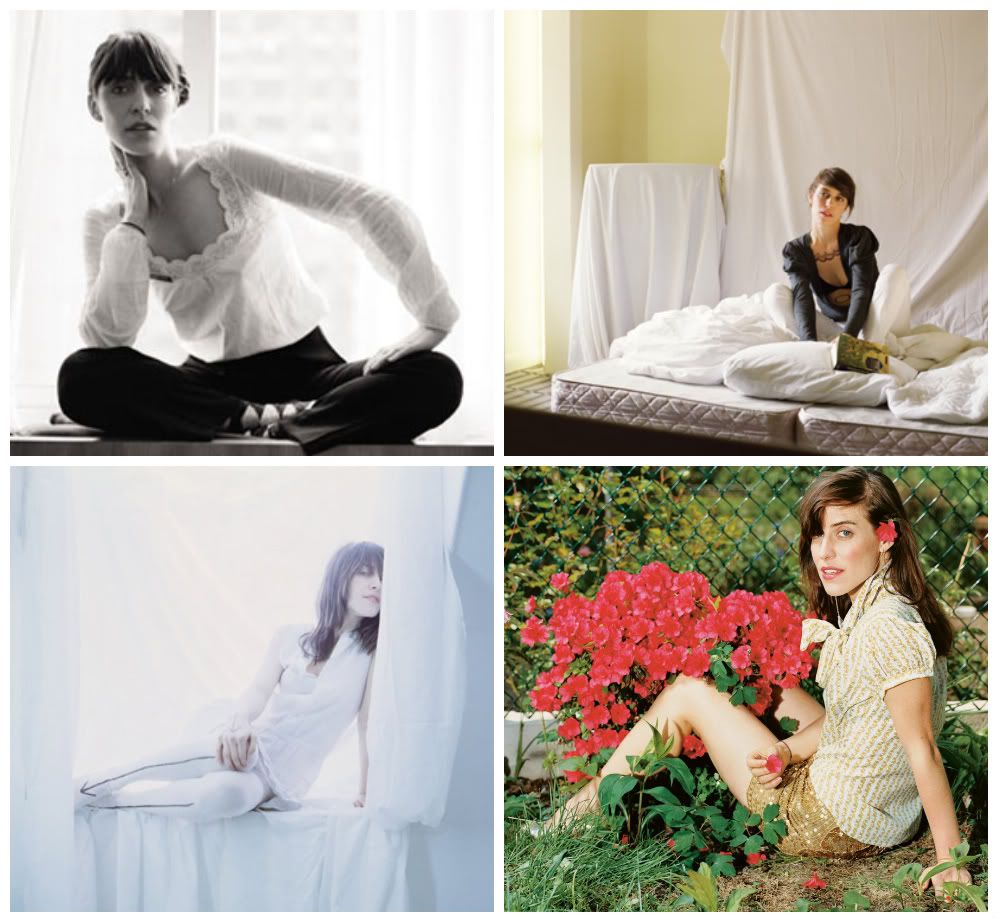 In term of style, her music alone has changed me from that weird high school girl to who I am now. Although listening to Feist and in the same time being an environment activist doesn't make me socially popular girl back then, but her music encourage me to be more independent without forcing me to follow the trend. I have never been and still ain't 'up-to-date' in term of fashion, but I like it that way.

Their fashion style are chic vintage, their style are quirky, they are all dreamer, their music reminds me all about the happy days with wind chimes clinging on the terrace or rainy day chatting with my sisters, and their video clips are whimsical.


My 1st encounter with Nouvelle Vagues was few month after Feist. I didn't like them back then especially because of the song title I considered rude (hey, I was so young and green back then). Later I had them playing on and on in my playlist, defining the glimpse of city girl persona inside me. The girls (ah..yes, Nouvelle Vague is a two-man band playing bossanova covers of punks and new wave classics with revolving singers consist of different supercool-girls who doesn't know the meaning of punk or post-punk so they'll bring freshness in the music.. think Andy Warhol of music to relate them.. errr..) Anyway.. all the girls in Nouvelle Vague's song has the same girly
vibe of ease, coolness, a bit of contemplation (somehow), and a control of
'

I just dont care, I'll do it only if I want to

' attitude. In the song, these girls are
haunted by the forest call even if they're undoubtedly urban. If the Picnic
Girl should stay in the concrete jungle, Nouvelle Vague is the hidden city girl persona inside her.
If Nouvelle vague defines the inner city girl of me and Au Revoir simone defines the picnic girl in me, Francoise Hardy digs even deeper: it's the core of the soul.



Not just her music is inspiring and cheeky, she is also very stylish in her own way. Well, maybe being a yeh-yeh girl from Paris gives her this chic impeccable sense of style as well as attitude- something we can't just learn overnight.
Not even a 'real' band, God Help the Girl is a project by Stuart Murdoch of Belle and Sebastian. I got a crush on these pretty girls right away. Like parents like daughter, the Belle and Sebastian vibe is a bit difficult to separate from them. But, there is an even more sentimental ambiance in the song, more girly too. Listening to their song is like sitting on the veranda, writing on the diary, watching the sun goes down, with breeze gently stroke the wind chimes, a pile of books containing sweet words, and a good glass of wine. To me, their music feels like a sweet 'me-time'.
Simple, just like that.
Between 'Karen O' (

which is also fabulous, anyway

) and 'She and Him' (

rock and roll?? hmm..

); there goes 'The Do'.



Olivia Merilahti, the face and voice of The Do did it well, and rock it prettily. I mean, looking like Uma Thurman and dressing in ruffles skirt on stage with that guitar singing those sweet songs? Will this current crush last to a love affair? Lets see..
Do you know the feeling when you just drink a sip of champagne and you haven't even tipsy but you feel your head is light and you're at ease? That's how I'll define Taken by Trees. Taken by Trees is a solo project of Victoria Bergsman, (

absolutely gorgeous

!) former singer for a Swedish pop band, the Concretes. She sings as if she's not 'present', a bit high, light-headed, but enjoyable. This crush will possibly be a love story if only I can find more songs other than her 1st album I have..ah..