As I promised on my previous post, now I'll share you a list of my favorite fashion and beauty books.

Read on, Loveliest!
*****
**Princess: You Know Who You Are**
By Francesca Castagnoli
Rating: 9/10
A treasure! I found this book buried in a pile of boring beauty books in QB bookstore five years ago. Yeeep... now, five years later, I can appreciate this book more than simply 'a funny book about pampered princesses' persona in every girl'.
This book introduced me to the self-pampering concept every girl deserve. The mantra 'Good things come to those who give themselves good things' is even preserved as my favorite quote in my high school yearbook in 2004 (

where were you back then, kiddo?

).

Actually, by the time I bought that book, I already do most of this stuff written there. I mean, I do have self-pampering tendencies and rituals such as weekly scrubbing, massage, hot tub and chocolate bath, and so on. But then, now when I have already grown, that book gave me (and any other girls out there) lots of excuses for spa ritual, cute things, profashionalism, and things that will embrace the inner princess inside you.

How do you know whether you have an inner princess? Well, if you're interested in this book, you sure do have her highness ready to be revealed. If you're in doubt, there is a princess-rank test in this hilarious book. Funny, pampering, useful (gives you hint on how to get whatever you want and look the best on the process) feministly feminine, and extremely girly. I love it five years ago when I'm still in high school and I still love it now when I'm all grown up.
*****
**Better than Beauty: a Guide to Charm**
By Helen Valentine & Alice Thompson
Rating: 6/10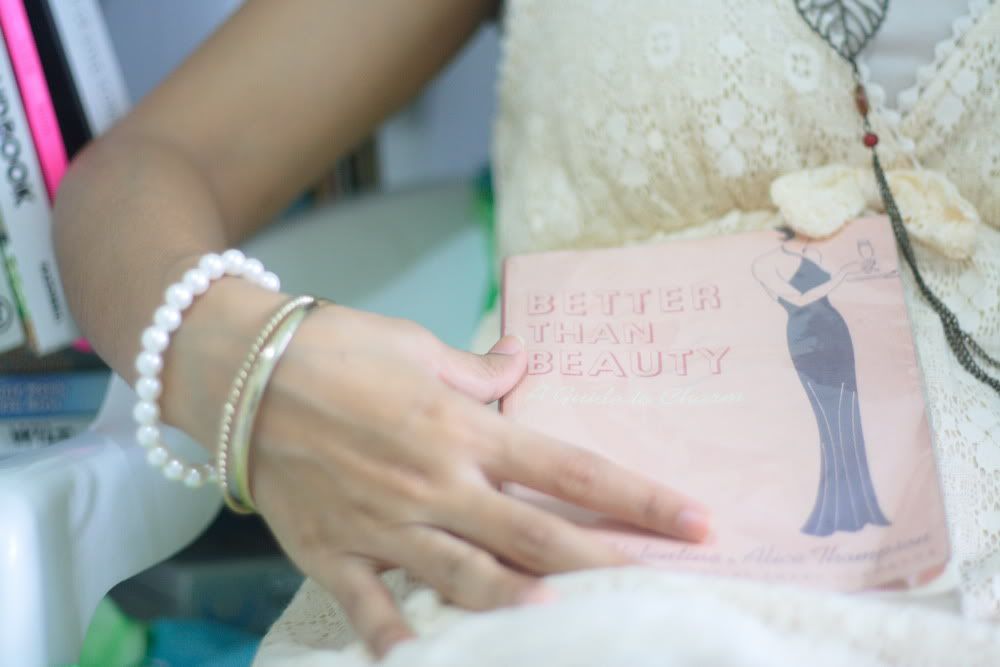 This book is perfect for every girl in her lowest. Days when the hormones took up her confidence and when neither clothes nor beauty product makes her feel pretty. This book is about how to become your most charming self.

The mantra is 'charm is better than beauty'. This book gives you hints on how to dress your shape, walk gracefully, and manner tips as well as little diet tips (

although I personally prefer "French Woman Don't Get Fat" as a body control book

).
*****
**Little Pink Book: Jakarta Style & Shopping Guide**
By Fitria Yusuf & Alexandria Dewi
Rating: 7/10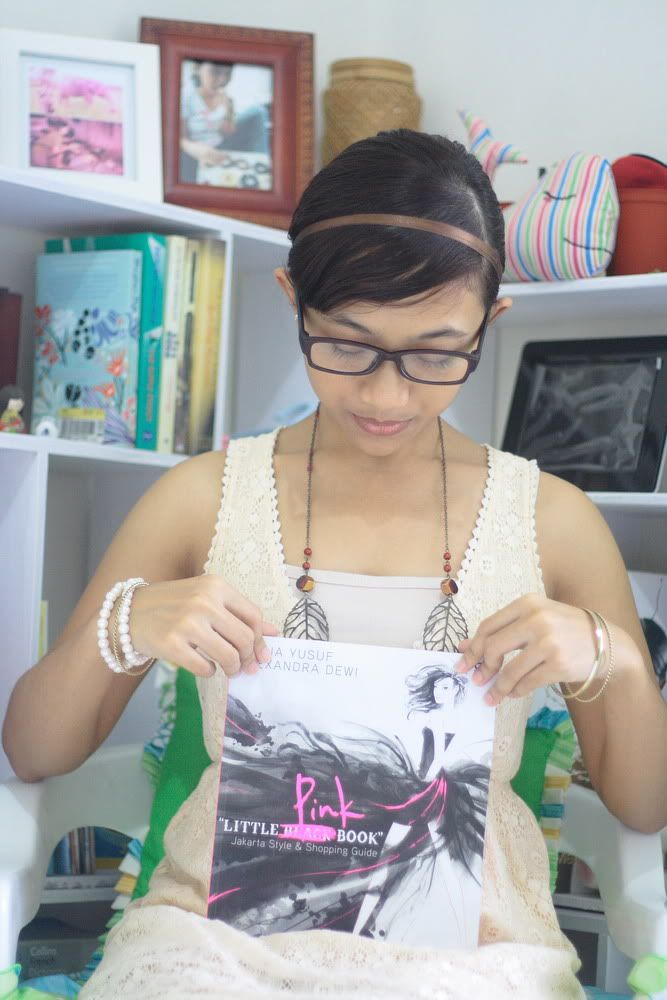 Why shop abroad if you can get anything that you want in Jakarta? Perhaps, that was the sweet caring message about Indonesia promoted by this book. Not just giving you the detail shopping directory (location, price range, brand, style); this book gives a complete style guide from the basic knowledge of classic bags, shoes, lingerie, dresses, and practically everything.

It brings you everywhere around Jakarta from the high fashion brand up to the dusty market alleys for thrifting. Written by two fashion and shopping expert, it sure a must have!

So you want to work in fashion industry? Read this book first!

This book is all about insider view of jobs in this glamorous world. Reader will be entertained and enriched by interviews of famous designers from Rodarte to Karl Lagerfeld; Editors from the legendary Anna Wintour to the interns; Stylist, Models, Beauty Specialist, and Photographers.

These legendary faces aren't afraid to share their secret of success in their fashion work. Reader will discover many new things that didn't even cross their mind previously. A must-have book for everyone who's seriously considers working in the fashion industry.

*****
**200 Projects to Get You into Fashion Design**
By Tracy Fitzgerarld & Adrian Grandon
Rating: 7/10
Excuse my chubby cheek on the photo *cough*.

Anyway, this book is a useful step-by-step guide in becoming a fashion designer~ or in my case, learning a bit about this side of the fashion world. This book taught about the process of being a designer, from making sketches, silhouette, learning texture, gathering inspiration, up to making an appealing designing portfolio. At the end of the book, there are several fashions designing 'challenge' for the reader (

who supposedly understand fashion designing world better by then

).

A fun yet quite serious book. Fun, in the way the book is reader friendly and full of real design pictures. Serious, in the way we should implement the guides in order to optimize the use of this book.

And by the way, I did make my first fashion design sketches by the applicative guide from this book and it was really fun!
*****
**The Goddess Guide**
Gisele Scanlon
Rating: 8/10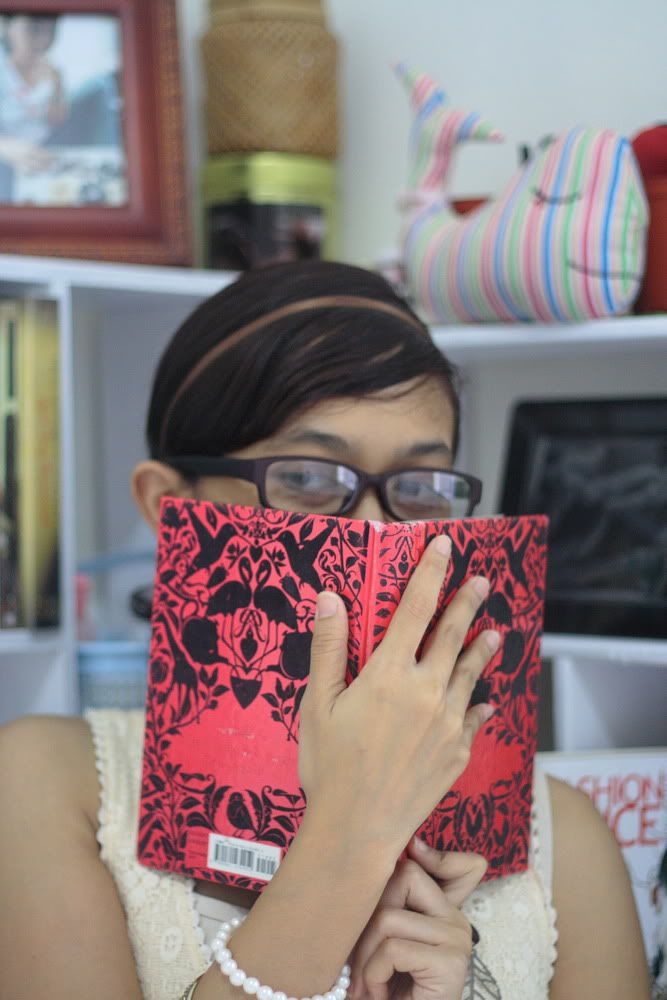 A more down-to-earth and worldwide version of Princess You Know who you Are; this book is a souvenir from a travel goddess Gisele Scanlon herself.

This book is literally a scrapbook journal of her travel and adventurous mind where reader can 'meet' famous faces from Christian Loubottin, Agent Provocateur, to Kermit's Miss Piggy. Completed with useful tips such as what to use to clean certain dirt mark, shoes, and from how to choose your tights up to how to create a dreamy garden for your house.

Written quite randomly; just like travelling through her trip notes all over the world. Love! Love! Love!

*****
*Fashionista: a Century of Style Icons**
By: Simone Werle
Rating: 9/10
A reference book about the most beautiful, most stylish, and even most outrageous style icons of the century.

It contains mini style biography of all the fame and legendary figure; from the diamond-necklaced cheetah petting Marchessa Luissa Cassati to the working-class fashion sweetheart Carrie Bradshaw; from the elegance Grace Kelly to the sexy bombshells; and from the fifteen-minute fame Eddie Sedgwick to the all-time infamous Madonna.

The information is enriching, the autobiography is written richly yet neatly, and perfect for those who'd like to recognize the historical aspect of fashion from different eras and society these fabulous ladies promote.

*****
**I Heart Your Style**


By Amanda Brooks




Rating: 9/10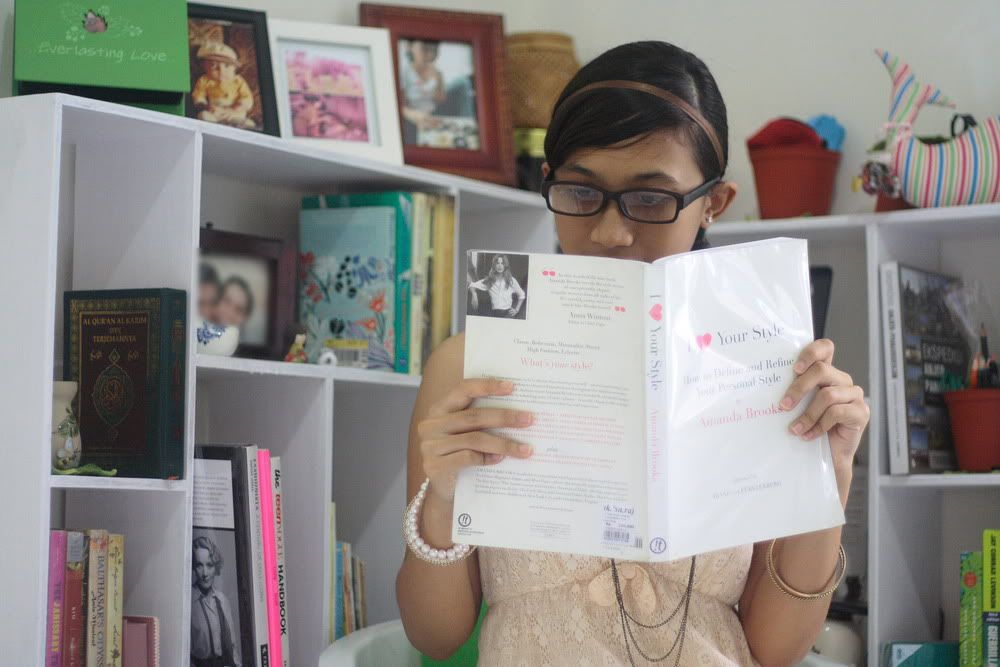 More than just another 'how to look good in your dress' book; this book took us to a journey deep inside ourselves to understand the core of style we have. Whether you are a classic-chic, vintage through and through, a simple girl, a glamorous type, or eclectically hip in today's street style.

After you get the basic, you will be lead to meet your potential fashion icon, essential items, and key success to bring yourself up to your best. Written by the Vogue darling, this book sure is more than just another style guide book.

*****
**Magazine: Lula, Frankie, Antler, Sesame, Swank Glossy, Dujour, Amica**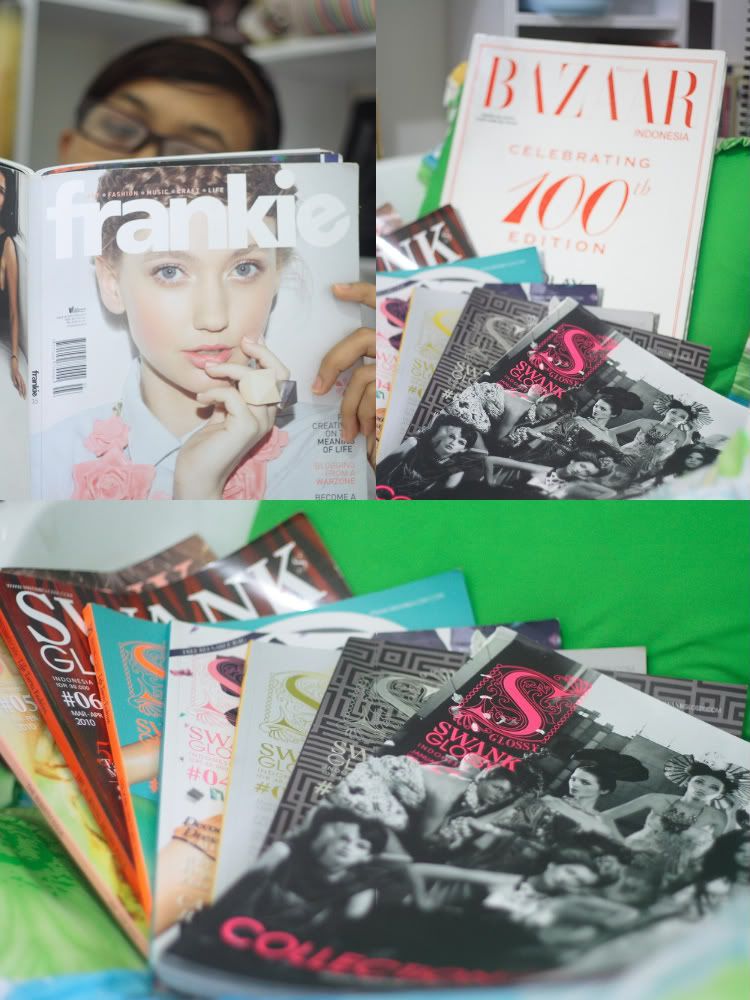 Lula
Ok, so I have never really own Lula magazine, nor actually read a print... but, it was love at the first sight. I love it even before I actually have it on my hand. So delicate, so dainty, and very very dreamy... who wouldn't fall in love with such sweet magazine? (I'm currently ordering a copy, wish me luck!)
Frankie
Very sweet and whimsical. I mean... article about 'Things Your Grandma Do When She's 17' kinda stuff? Brilliant! It's not only about fashion as it is, but it's more about culture and social issues (an article about a blogger in wartime, and quirky fashion spread? I'm in!). Enriching and enlightening, it is!
Antler
An online based magazine that become my guilty pleasure at work where my eyes glitter while I browse through every pages. Dreamy with a hazy surreal vibe in its fashion spread. Too bad it seem to stop publishing after the third issue... or do they move somewhere? Let me know!
Sesame
Sesame is all about beautiful, capricious fashion photo shots and artworks. I lose word for this one. I love it like... a lot!! Ah... briliant!
Swank Glossy
At first, I knew Swank Glossy as an online based indie magazine locally from Indonesia with a high fashion sense unlike any other local magazine. I'm so proud. When it finally published its printed version, I was thrilled and at the same time worried that it will turn out to be just-another-magazine. Gladly, it wasn't! It stays in its standard and the unusual fashion spread is beyond expectation.
Dujour
Aahhh... what not to love about this magazine? Sweet, pastel, and super girly! How could you not fall in love with it... unless you hate pink? Errrr...
Amica
I fell in love right away with this magazine. It was first an independent fashion magazine from Italy, so, as you might have expected, the magazine is well divined. Their articles are rich in knowledge too... instead of writing about celebrities, they prefer writing about woman who bring changes in many other ways like a bookstore owner, an art currator, and woman scientist. Bravo! Too bad, its articles are getting less soulful when written in Indonesian (they used to publish in English but now they're published in Indonesian).
Miy
Lace Dress / Heritage 1981
Bracelets / Forever 21
Glasses / La Codefin

Brown Headband / Miy's
Leaves Necklace / Soi by Sondy Garcia
Photographed by Dito Yuwono
*****
Don't forget to check my list of Fashion Movies and Music, Loveliest... :D